Do Electric Cars emit EMF and Is It Dangerous
Most modern vehicles have a wide number of onboard electronics aimed at providing convenience and safety. These electronics emit a lot of radiation that is dangerous to your health. If you have an electric car or a hybrid car, the danger is even higher.
All electrical devices, including the big batteries and the powerful electric motors found in hybrid cars, do emit a lot of EMF radiation. This could be subjecting you to a lot of health risks.
The radiation generated by the electronics inside the car bounce back when they hit the metal casing of the car. This is known as a Faraday cage effect. As the radiation bounces back, it is trapped inside the car increasing the amount of radiation you are exposed to when you are in the car.
Electric cars emit two types of radiation:
Extremely low frequency (ELF) electromagnetic radiation is emitted by electronic devices, the batteries, and other internal circuitry inside the vehicle.
Radio frequency (RF) electromagnetic radiation comes from wireless devices inside the vehicle connecting with devices and technology inside and outside the car. For example, radiation from devices will be connecting via cellular network, Bluetooth and Wi-Fi.
Sources of EMF in Tesla Cars
Just like other electric vehicles, Tesla cars expose you to a lot of radiation while driving or just sitting down inside the vehicle when it is in use. Some of the sources of EMF radiation in the car include:
In-car Wi-Fi system
Bluetooth system
Car alarm
In-car computer system
Start system
Keyless entry
Car battery
According to a study by Scripps Clinic Research Foundation, high levels of EMF from EVs make the drivers drowsy and sleepy while driving. Based on the study, drivers who are exposed to high levels of EMF while driving are likely to sleep 52 minutes faster than those exposed to low levels of EMF.
In addition, exposure to radiation while driving can result in headaches, neck stiffness, and dry eyes or blurred vision. Long-term exposure to these sources of EMF radiation may have long-term health complications.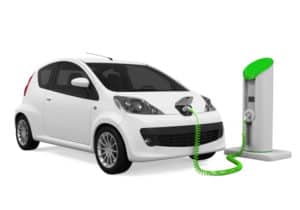 According to Dr. Joel Moskowitz at the University of California Berkeley, hybrid cars and other electric cars have increased levels of ELF that cause cancer, increase the level of oxidative stress that leads to DNA fragmentation, cause cell damage, fertility issues, drowsiness, etc.
To reduce the amount of exposure to EMF, you should switch off the use of EMF sources like Wi-Fi, Bluetooth, and computer systems when you are in the car. You should use a wired connection to play music in your car instead of using wireless transmission via Bluetooth or Wi-Fi.
Lastly, ensure your phone is put in airplane mode while driving to reduce exposure to EMF radiation. You can also use EMF Protection Guards in your car to neutralize the effects of the EMF generated inside your car.